TRAVEL EUROPE-WIDE BY TRAIN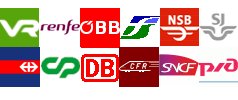 The InterRail Global Pass is valid on the national railways of these 30 countries:
Austria, Belgium, Bosnia-Herzegovina, Bulgaria, Croatia, the Czech Republic, Denmark, Finland, France, Germany, Great Britain, Greece, Hungary, Ireland, Italy, Luxembourg, FYR Macedonia, Montenegro, the Netherlands, Norway, Poland, Portugal, Romania, Serbia, Slovakia, Slovenia, Spain, Sweden, Switzerland and Turkey.
Child :  4 to 11 yrs. Youth :  12 to  28 yrs. Adult : 29 to 59 yrs. Senior : 60 and over
Age category →
Adult €
Youth €
 
Senior €
Child* €
↓ Duration Class → 
2nd
1st
2nd
1st
2nd
1st
2nd
1st
5 days within 15 days

269

358

208

286

242

321

Free

Free
7 days within 1 month

320

425

255

340

289

382

Free

Free

10 days within 1 month

381

509

305

407

344

457

Free

Free

15 days within 1 month

472

626

376

501

424

563

Free

Free

15 days continous

421

562

337

449

380

507

Free

Free

22 days continous

493

657

394

526

444

592

Free

Free

1 month

637

850

510

681

574

767

Free

Free
 * Children under 4 travel for free and do not need a pass. You may be asked to sit a child under 4 on your lap during busy times.Children aged 4 to 11 travel for free with a Child Pass. A child must be accompanied at all times by at least one person with an Adult Pass. This doesn't have to be a family member and can be anyone over 18.Up to two children can travel with one adult. For example, when two adults are travelling, they can take four children with them.If more than two children are travelling with one adult, a separate Youth Pass needs to be purchased for the additional children. Travellers aged 12 to 25 can travel with a Youth Pass.
To order your Pass please use the enquiry form on our contact page. The tariffs above do not include our service fee of 8 € per Pass. This fee includes shipment of the Pass by tracked post (barcoded), IR Planner and map, pdf European Timetable file (by email) and our personalised advice and assistance for timetable planning. Payment can be made by international bank transfer or by credit/debit card (by telephone via a secure bank server or via postal authorisation).
INTERRAIL ONE COUNTRY RAIL PASSES
The InterRail One Country Pass is your best choice if you want to visit one European country by train. You can choose from 27 InterRail One Country Rail Passes covering one or sometimes two of the above countries. Please click here to see all the countries, passes and categories available.
To order simply fill in the enquiry form on our contact page and we will contact you by return email to ensure we have all the neccessary details for your order.